Community Partner
Assistive Technology Partners (ATP) is now the Center for Inclusive Design and Engineering (CIDE). CIDE envisions a world where all persons with disabilities, and those aging into disability, are engaged in life at home, school, work and play, without barriers and with boundaries through appropriate technology solutions.
The COSSA Board of Directors originally selected Assistive Technology Partners (ATP) as its community service partner in 2014. The Board of Directors and members believe it is important to give back to the Colorado communities we serve.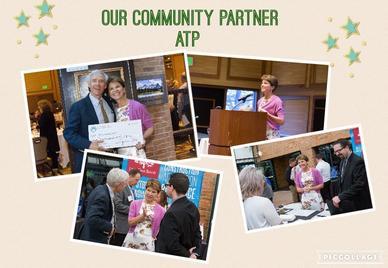 ATP was selected because of the amazing life-changing services they provide to the disabled. One in five people in the U.S. lives with a disability, and ATP is in business to identify, evaluate and test new technologies to help the disabled reach their highest potential at home, school, work, play and in the community. The need is great!

In 2014, with the help of Schur Success Auctions conducting charity auctions at various self storage facilities, direct donations and an auction at the May 2014 meeting, ATP was the recipient of desperately needed funding in the amount of $4,872.00.
Our partnership didn't end there. In 2015, the COSSA Directors committed to doing even more for ATP, and set a goal to raise $15,000! At that year's May meeting, after hearing from Terry, a young man that ATP has helped, attendees were asked to make a donation and/or pledge to ATP. We are pleased to announce that through the generosity of the members, guests and vendors we raised $16,000.00!!
But it didn't stop there! After the meeting, donations and pledges continued to come in bringing the total to $18,168.00. Dr. Cathy Bodine, PhD,CCC-SLP, Executive Director, Assistive Technology Partners, said "We are absolutely thrilled with the responsiveness of the COSSA community on behalf of our families. These families all have such limited resources and being able to help defray the cost of services through scholarships to families is an amazing help! We are already thinking about which families we can begin to assist in this process."
| | |
| --- | --- |
| | |
| May, 28: Jackson White presents Dr. Cathy Bodine, PhD, CCC-SLP, with the checks and pledge cards received at the May 13, 2015 meeting. | Jackson White, COSSA President and Mindy Levy, Director, present a check to Maureen Melonis with ATP in the amount of $16,000, the total raised at the Spring 2015 meeting through donations and pledges. |
Year after year, COSSA and it's membership continue to support the Center for Inclusive Engineering and Design. Through year end 2019, donations have totaled over $50,000! It has been wonderful to see how the efforts of COSSA have helped those in need of the services provided by the Center for Inclusive Engineering and Design. We look forward to continuing a strong partnership for year's to come.
See how your donation can help. To learn more about ATP, visit their website.
To make a donation to ATP:
Download form, make check payable to CU Foundation - Mark for: ATP Fund #0321814
Mail to: CU Foundation, 1380 Lawrence Street, Suite 1325, Denver, CO 80204
By Credit Card: www.cufund.org and click on "Give Now" button on top right corner of page. Reference: ATP Fund #0321814
---
Welcome to the CIDE eNewsletter, "CommunicATor". See what we have been up to by checking out the newsletters and event information.
Fall 2019
Summer 2019
​Spring 2019
Fall 2018
The 13th Annual Deja Vu Rendezvous has been rescheduled for Friday, September 11, 2020.